Residential curbside services include weekly collection of trash, mixed recycling, organics and bi-monthly collection used motor oil and filters by appointment.
Residents may choose from 35 gallon, 64 gallon or 96 gallon sized carts. Please refer to the fee schedule to determine current service fee.
Click the collection schedule to find the service day for your street. Please note: Curbside service is unaffected by holidays, with the exceptions of Thanksgiving, Christmas and New Year's Day. Residents will be notified in advance of any changes to their pickup schedule as a result of these holidays.
For missed service and other trash needs, call WM directly toll free at (866) 844-1508. City Utility Billing will take all billing related calls at (916) 617-4589.
Additional Cart Set-Out Instructions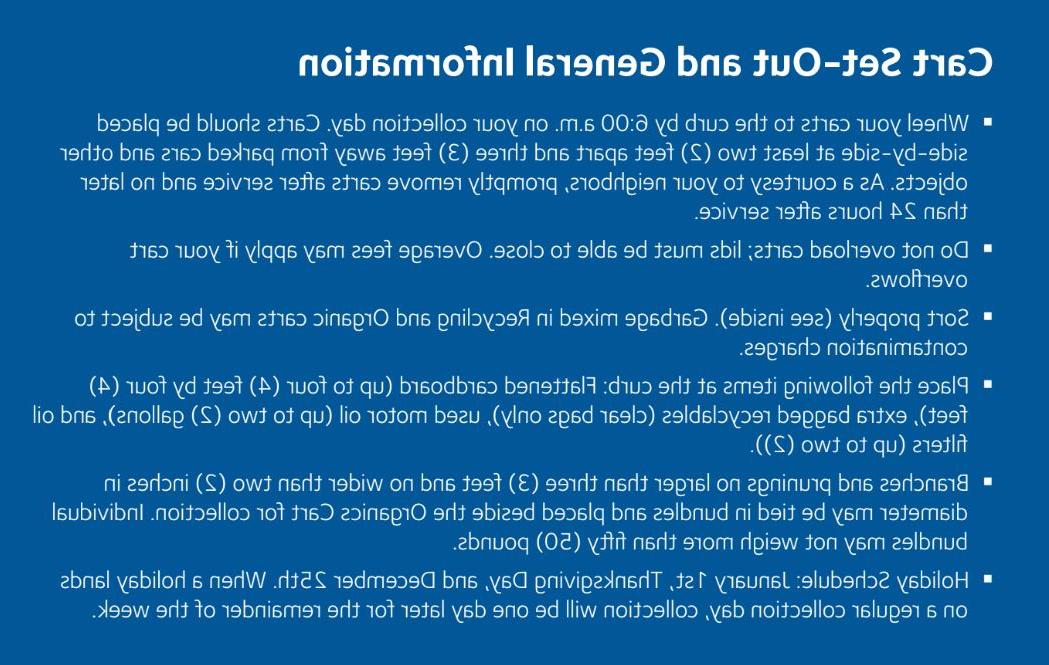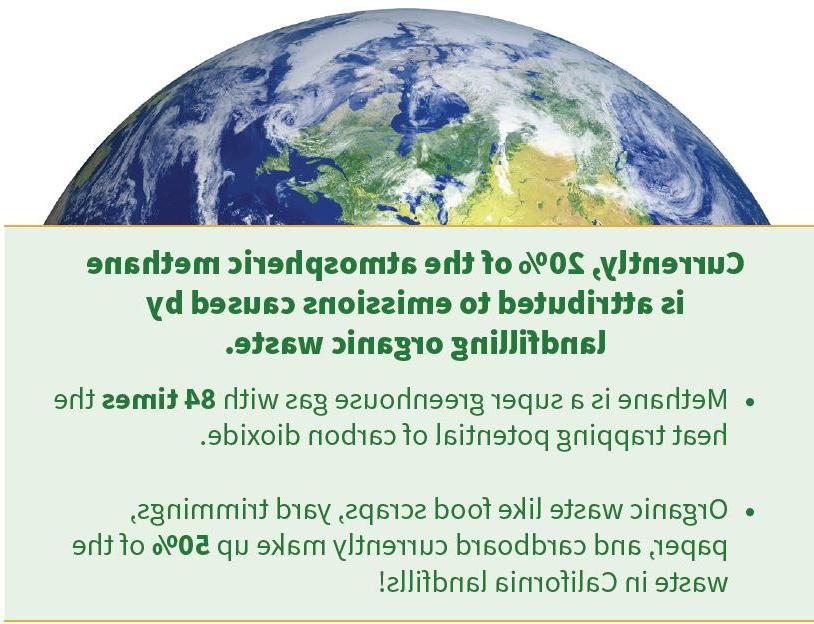 Legislation designed to cut greenhouse gas emissions is now in effect. Learn more about how you can help.
Visit the SB1383 page to learn more about specific program requirements.
Additional Collection Services
Bulky Waste Pick Up Appointment Service
West Sacramento residents are eligible for two bulky waste pick up appointments per year, between July 1 and June 30, for items too large to fit in a curbside cart. For more information or to schedule a bulky waste pick up, call Waste Management toll free at (866) 844-1508. You can also visit Waste Management's West Sacramento page. If you have used your two bulky waste pick up appointments for the year and still have bulky items to dispose of, call Environmental Services at (916) 617-4590 and request a landfill voucher. Some restrictions apply.
Household Hazardous Waste Collection Service
Residents are also eligible for two special collection appointments of Household Hazardous Waste per year, between July 1 and June 30. Call Waste Management toll free at (800)449-7587 to schedule an appointment or visit them online at www.wmatyourdoor.com.
Fats, Oils and Grease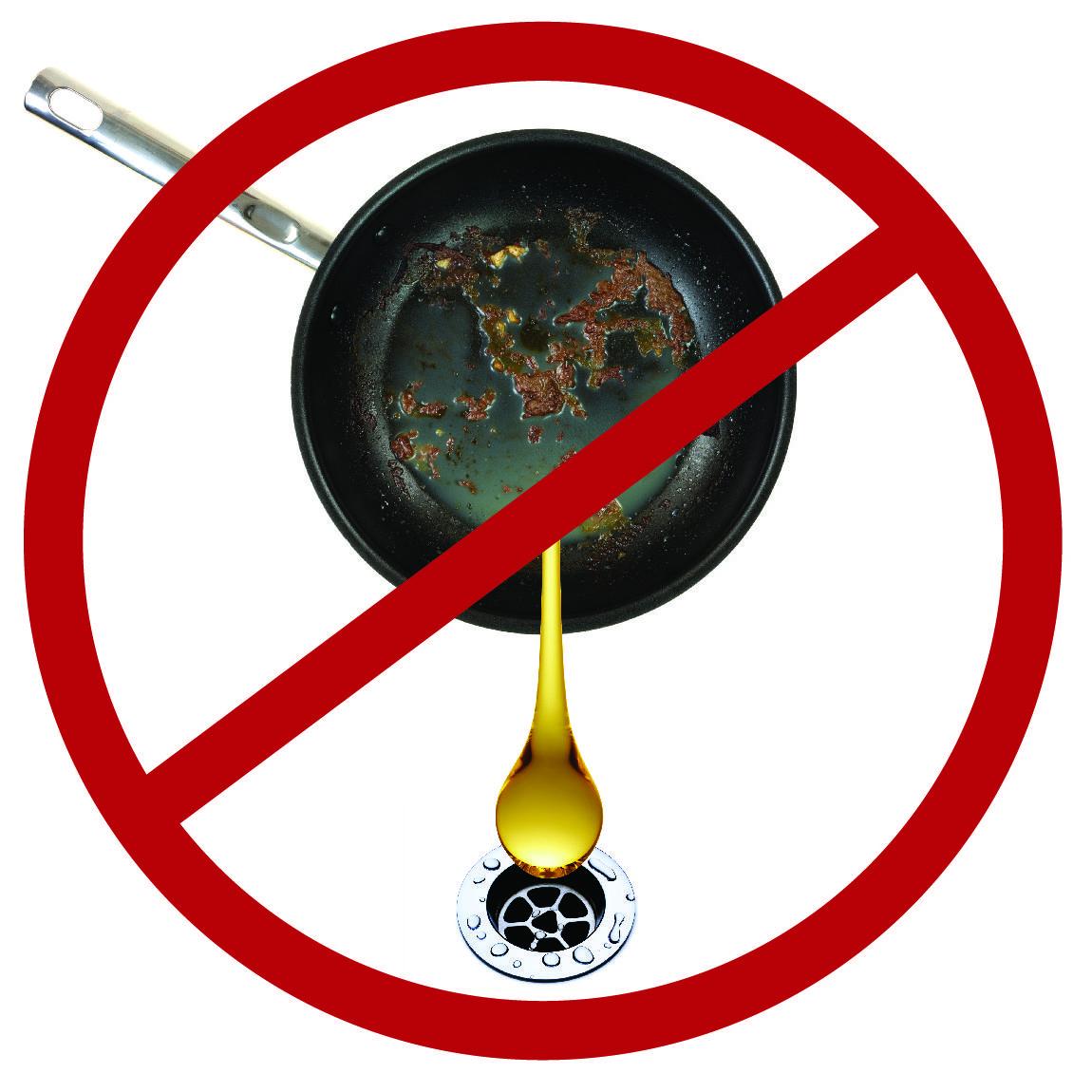 Fats, oils, and grease (FOG) are a natural by-product of cooking and preparing food.  Sources of FOG include food scraps, meat fats, cooking oil, lard, baked goods, salad dressings, sauces, dairy products, shortening, butter and margarine. Proper disposal of FOG is important. Review this material for tips on saving our pipes and sewer lines! 
Used Oil and Filter Collection
Waste Management will provide used oil containers and filter bags. Residents may recycle up to two (2) gallons of used oil each month using this service. Residents must call to make an appointment. Used oil must be poured into provided containers. Call (866) 844-1508 to request a container and filter bag.
Good Neighbor Program
Illegal dumping is an eyesore. Roadside furniture, appliances and tires, to name a few, do nothing to enhance a neighborhood. The County of Yolo has a program that can help. Residents may take illegally dumped items found along the roadside to the landfill - Free of Charge. In addition, the resident will be given a coupon good for disposal of their own waste. Just for being a Good Neighbor! The County implemented this program to reduce the amount of money the Roads Division spends cleaning up illegal dumping. Residents are requested not to pick up hazardous waste and will be asked to complete a form that includes describing the location where the material was collected.
If you would like more information about this program, contact the Yolo County Central Landfill at 530-666-8729 or visit their website.